BELANO Medical - The Micro­biotics Company
BELANO Medical
The Micro­biotics Company
Belano - Skin Care Products
The microbiome - the invisible world on our skin
The human micro­biome is the name given to the sum of all micro­or­ga­nisms in and on our body.
The micro­biome includes above all bacteria, but also fungi and viruses, collec­tively also called microbes. We could not live without these micro­or­ga­nisms. Just as certain bacteria are important for our intes­tinal health, a multitude of bacteria keeps our skin healthy. All micro­or­ga­nisms of the skin micro­biome, both beneficial and harmful, enter into a symbiosis. They have many inter­ac­tions with each other and with our skin. Many essential skin functions are stimu­lated by the microbiome.
As a living protective layer, the skin micro­biome thus assumes the role of a protector for the skin. It streng­thens the immune system, controls the pH value of the skin, streng­thens the skin barrier and ensures an optimal moisture balance. The skin in turn provides the microbes with nourishment through dead skin cells, sebum, sweat and skin lipids, thus helping to maintain the function of the skin microbiome.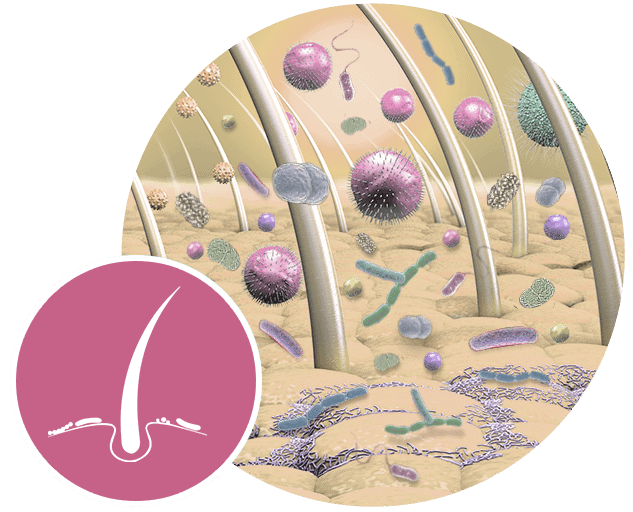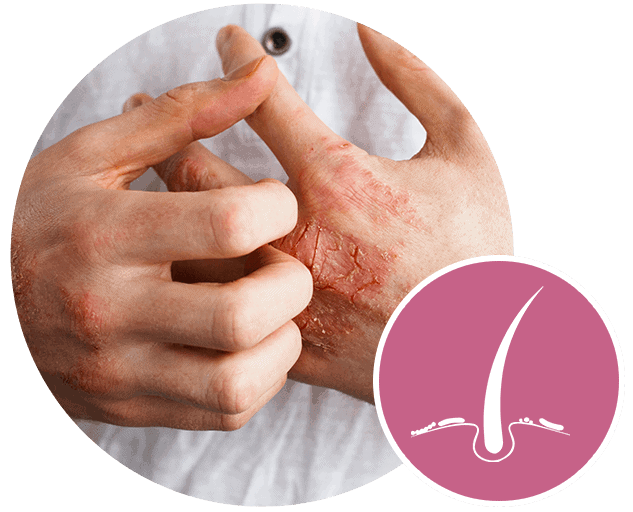 Belano - Skin Care Products
Skin diseases - the damaged microbiome
A balanced, healthy skin micro­biome not only protects and helps with skin problems, it also streng­thens the skin's immune system. The great influence of the micro­biome on skin quality, on skin diseases and on health in general has been scien­ti­fi­cally inves­ti­gated and confirmed in recent years.
A variety of factors such as our genetic dispo­sition, our diet, environ­mental pollution and stress influence the micro­biome and can throw it off balance. Even misun­derstood and excessive personal hygiene often destroys many protective bacteria on the skin. Harmful germs (pathogens) can then multiply. The conse­quences are: Dry skin, premature aging, itching, redness, blemishes, inflammation.
The develo­pment of skin diseases is rightly seen in science in connection with a disturbed skin micro­biome in which inflammatory germs gain the upper hand.
An out-of-balance, disturbed skin micro­biome is found in many skin problems and always in skin diseases such as neuro­der­ma­titis, some types of psoriasis, acne and rosacea.
Belano - Skin Care Products
stimulans® - the natural power of microbiology
The globally unique, patented micro­biotic active ingre­dient stimulans® is the result of extensive micro­bio­lo­gical research into the skin microbiome.
Using a high-tech process, a natural, cell-free micro­biotic extract is obtained from the special lactic acid bacterium Lacto­ba­c­illus brevis DSM17250. The patented active ingre­dient stimulans® developed from it stimu­lates the useful, protective bacterial diversity on the skin, especially Staphy­lo­coccus epider­midis, to multiply in the long term. Harmful bacteria, such as the skin pathogen Staphy­lo­coccus aureus, are displaced. The micro­biome regene­rates and the natural self-healing powers of the skin are mobilised. The skin barrier and the immune system are streng­t­hened.
So far no other active agent is known which is able to build up the natural skin barrier and regenerate the skin's micro­biome within a very short time.
The effec­ti­veness of stimulans® has been scien­ti­fi­cally proven in a clinical study.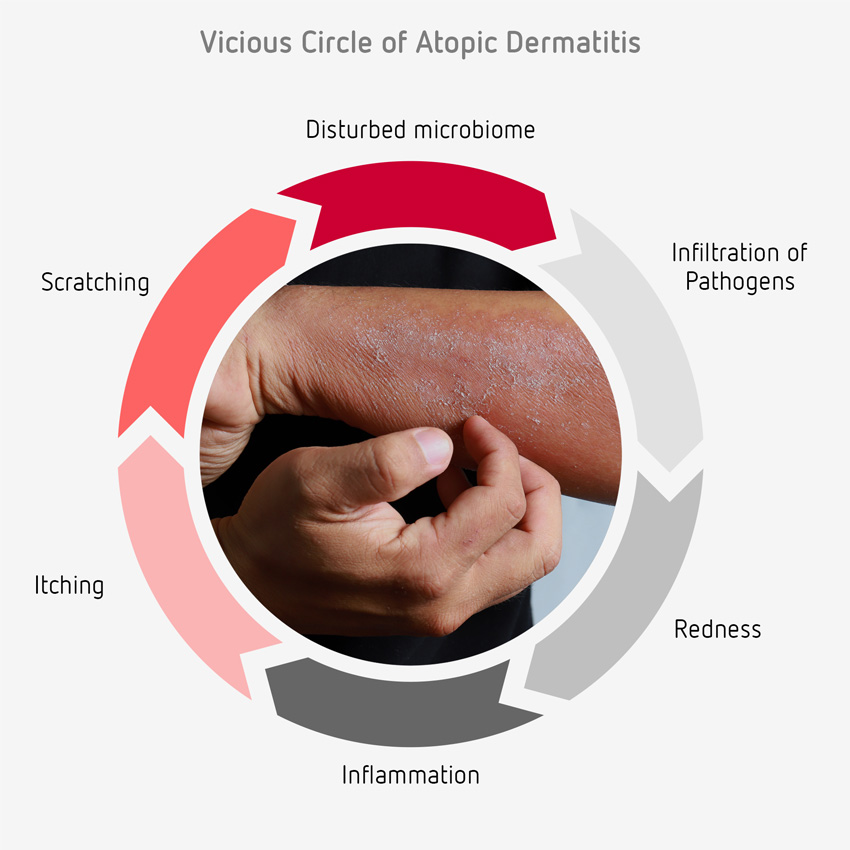 Belano - Skin Care Products - ibiotics med
The alternative concept of medical skin care
All products in the ibiotics med medical skin care range are based on the active ingre­dient stimulans® and have been specially developed for use in cases of disor­dered skin and skin diseases. They serve as basic care for neuro­der­ma­titis, psoriasis, acne and rosacea. Symptoms of disease such as inflammation, itching, scaling and redness can be reduced signi­fi­cantly and lastingly. In contrast to conven­tional products, we use the natural potential of the micro­biome and mobilise the skin's self-healing powers.
A basic therapy with regular appli­cation of ibiotics med is suitable for breaking the atopic cycle, prolonging the time without symptoms and alleviating the symptoms in acute phases. Experience in practice shows that the use of prepa­ra­tions containing cortisone can be partially reduced or even avoided. Acne usually shows a rapid decline in inflammation.
In order for the skin to perma­nently regenerate and stabilize itself, it is important to use ibiotics med regularly. Even in the complaint free period.
ibiotics med often helps where conven­tional care products are not effective.
Belano - Skin Care Products - ibiotics med
Microbiome products for a sustainable healthy skin
Belano - Skin Care Products - ibiotics beauty
Microbiome cosmetics with the intelligence of nature
Healthy and beautiful skin is an expression of freshness, strength and vitality. But only if the micro­bio­lo­gical balance is right will health and beauty be maintained into old age.
The micro­biotic active cosmetic ibiotics beauty is based on the active ingre­dient stimulans®, stimu­lates the skin's own processes and speci­fi­cally promotes the develo­pment of a healthy skin flora. The micro­biotic ingre­dients strengthen the natural protective barrier of the skin without sealing it. Moisture is better stored and cell-damaging radicals are more effec­tively inter­cepted. Thus ibiotics gives the skin suppleness and freshness and works against premature skin aging. When used regularly, ibiotics ensures a lasting firmer and radiant skin appearance. ibiotics offers innovative natural, micro­biotic microbial care for everyone.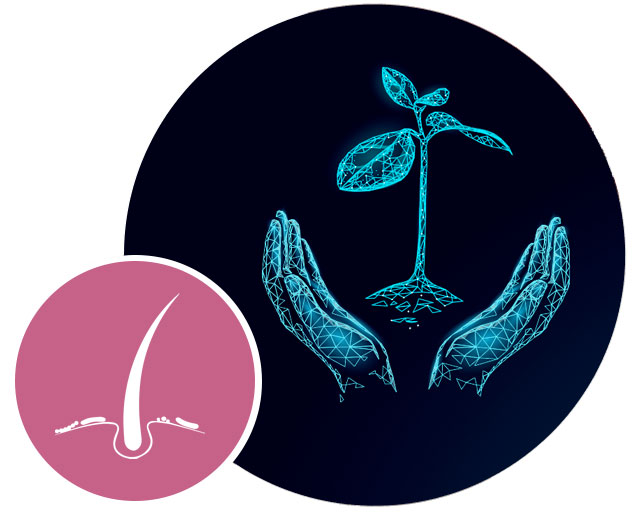 Belano - Skin Care Products - ibiotics beauty
Microbiome products for healthy and radiant skin